#PapayaIsLife for Giving Tuesday 2020!
Join TRR on this Giving Tuesday: The #PapayaisLifeFund helps us feed over 265 animals every day!
$3,855
raised by 43 people
$2,000 goal
THANK YOU! All of you are AMAZING!
Update posted 3 years ago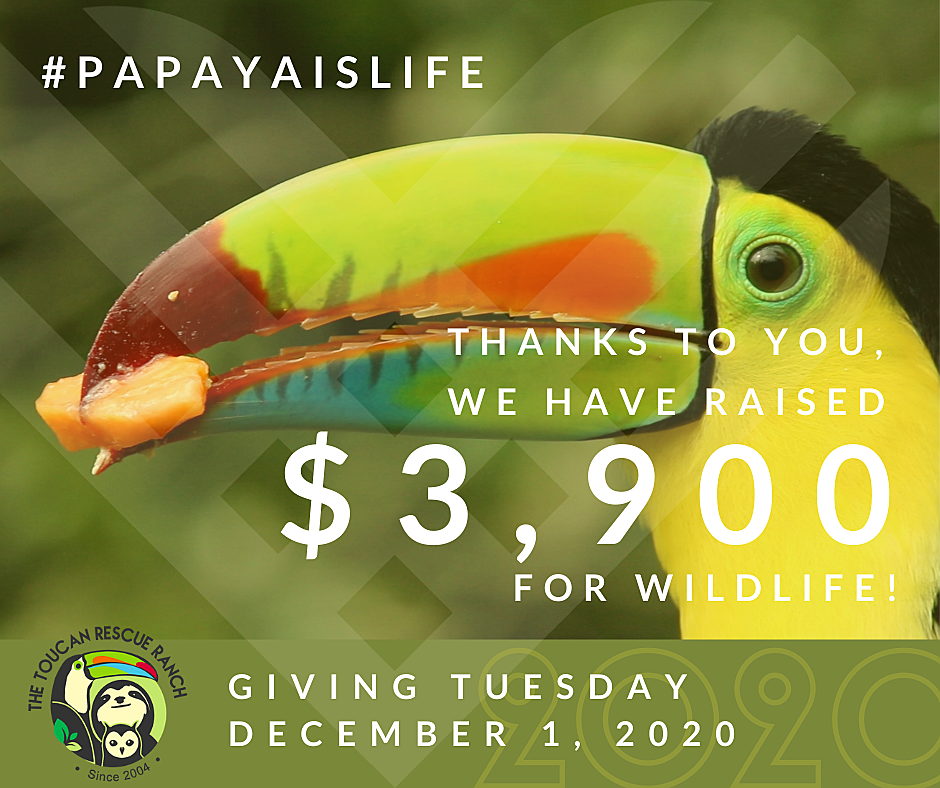 Wow, we did it! We crunched the numbers and all together we raised $3,900 for the #Papayaislife Fund! How AMAZING is that?! We are so thankful for every single one of you!
All of us at Toucan Rescue Ranch is so inspired by the power of community from yesterday's #GivingTuesday! It was incredible to see everyone come together and make a difference not only for Toucan Rescue Ranch but the thousands of organizations that benefited from immense generosity for Giving Tuesday!
If one thing is very clear: we are stronger, together. 
We want to say thank you to all those who shared and donated to our campaign yesterday. We are endlessly grateful for all of you.
---
Today, we will be going LIVE on Facebook and Instagram with our Founder and Executive Director, Leslie Howle, to share some thoughts and some thanks. 
Once again, THANK YOU. We are able to save these lives because of YOU! We hope you feel good because of that. 
As part of Giving Tuesday, Toucan Rescue Ranch wants to shine a light on the famous saying we have at the Ranch: Papaya is Life! 
Why is papaya life, you ask? Let us tell you all about it!
We care for 265 animals and over 50 species of wildlife. That means we have to feed all of the animals constantly. What do the animals love the most? Papaya, of course! 
TRR goes through nearly 1-ton of papaya in JUST one week. This doesn't include the various fruits and vegetables that we also provide in our diversified animal diets. Did you know that Toucan Rescue Ranch spends $42,000 each year on JUST papaya?! How wild is that?
Toucan Rescue Ranch is 100% funded by generous donations. All donations are also tax-deductible as we are a nonprofit in the U.S. and a Costa Rican Foundation! With your donations of $25, $50, $75, or $100, help us keep the wildlife rescue center running! How amazing is that?
The Toucan Rescue Ranch is a licensed Costa Rica wildlife rescue facility, Costa Rica foundation (300667701803), and a 501(c)3 nonprofit organization (EIN: 80-0516453).
---
#Papayaislife Purchases ALL of the rescued animal's food:
The Toucan Rescue Ranch goes through roughly 1,323 pounds of papaya in just 1-week! Each month we will go through over 2 tons of papaya for the animals This number does not include the bags of green beans, carrots, melon, fish, banana, plantain, berries, and a variety of other foods that we prepare for the many different diets at TRR.
---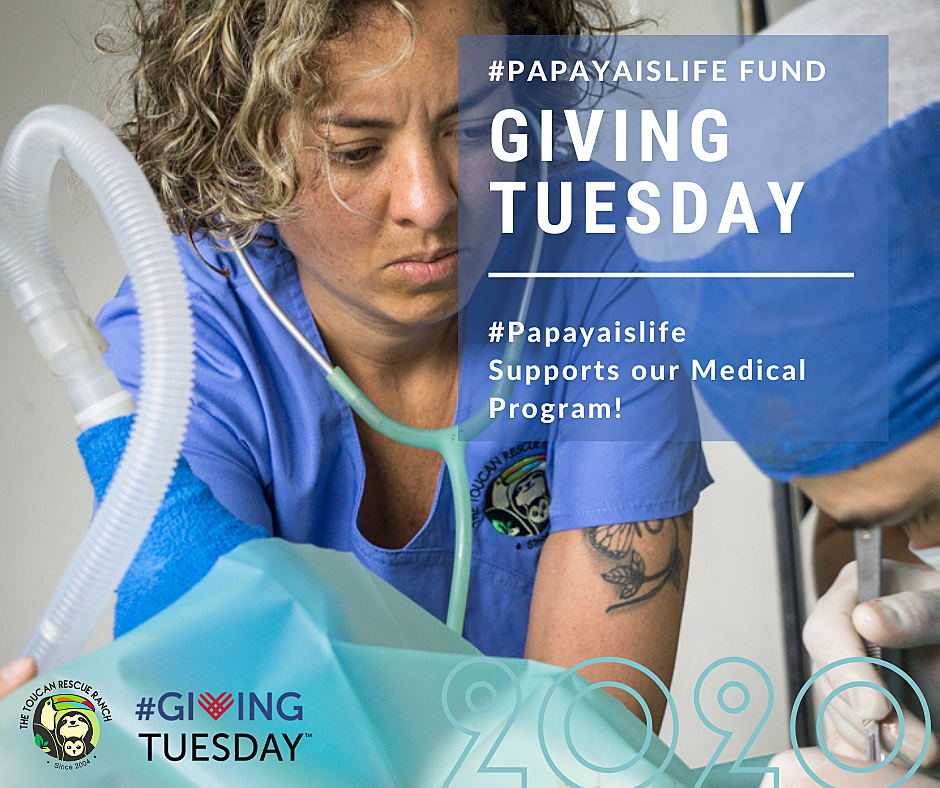 #Papayaislife Supports our Medical Program:
The Toucan Rescue Ranch's clinic is a premier wildlife rescue facility with highly experienced veterinarians and medical professionals. The basic monthly cost of our clinic is $1,000/month. A basic surgery will cost the rescue center roughly $200, and we specialize in critical cases. This is an essential component of our rehabilitation center. Restocking the various supplies such as syringes, medicine, oxygen, bandage materials, sterilization tools, and much more is both necessary and costly – but by helping with the #PapayaisLife fund you are directly contributing to our clinic and animal emergencies! #GivingTuesday
---
#Papayaislife supports our Rewilding Efforts and Conservation Projects:
By contributing to this fund you will be a true wildlife warrior helping with our Release Program and the reintroduction of hundreds of animals back into their rainforest home! We spend nearly $2,000/month on enrichment and enclosure enhancements for the rescued wildlife at TRR. You will provide for the expenses, research, housing, and care of the animals in this phase of our mission! #backinthetrees 
---
What is Giving Tuesday?
#GivingTuesday is a global generosity movement that's unleashing the power of people and organizations to transform their communities and the world. Whether you're giving your voice, your time, goods, or your money, helping others, or working for the causes you care about, generosity is one of the most powerful ways you can have an impact in the world.
Why is TRR participating in #GivingTuesday?
For our organization, GivingTuesday is a chance to talk about our values and why we care so much about the work that we do.
We've been able to use GivingTuesday to introduce new people to help the #PapayaisLife Fund and Toucan Rescue Ranch so that they will become year-round supporters.
For us, this is a chance to be part of a bigger movement and a bigger community. GivingTuesday is a global phenomenon.
Help the #PapayaisLife Fund this GivingTuesday
The Toucan Rescue Ranch spends over $20,000 each month to maintain operating costs. It is an expensive endeavor to feed and care for hundreds of rescued wildlife. This is easily the most important fund to support at TRR! 
Your donation will also help with veterinary services, medical equipment, enrichment, diets, expansions, enclosures, and so much more!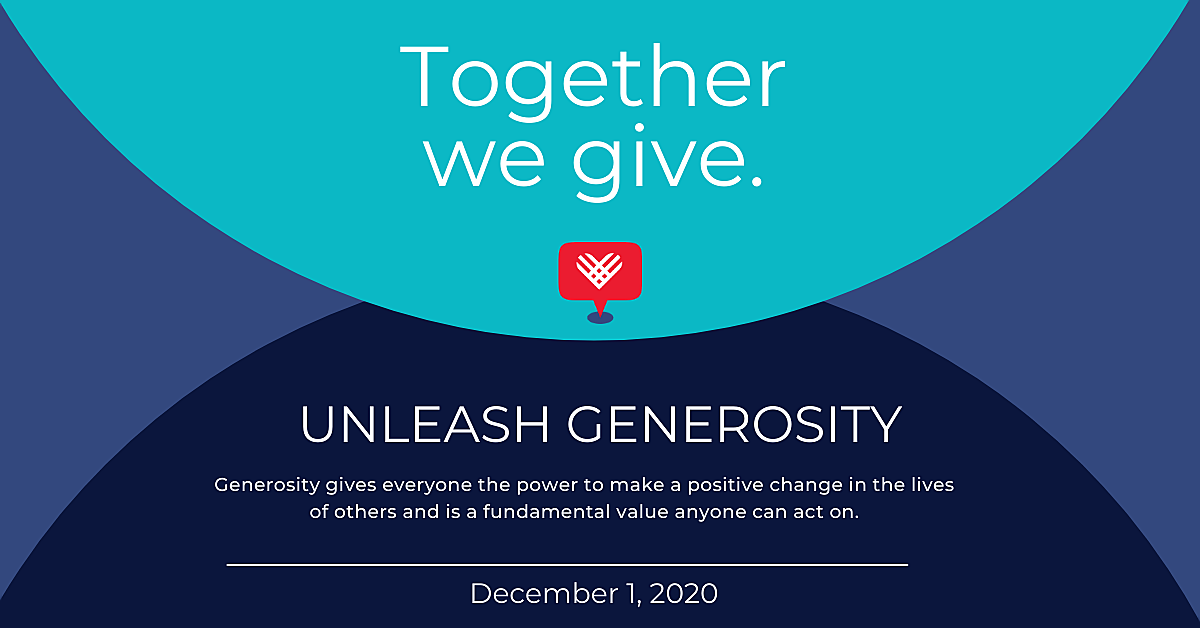 Instagram