Support SW Community Gardens!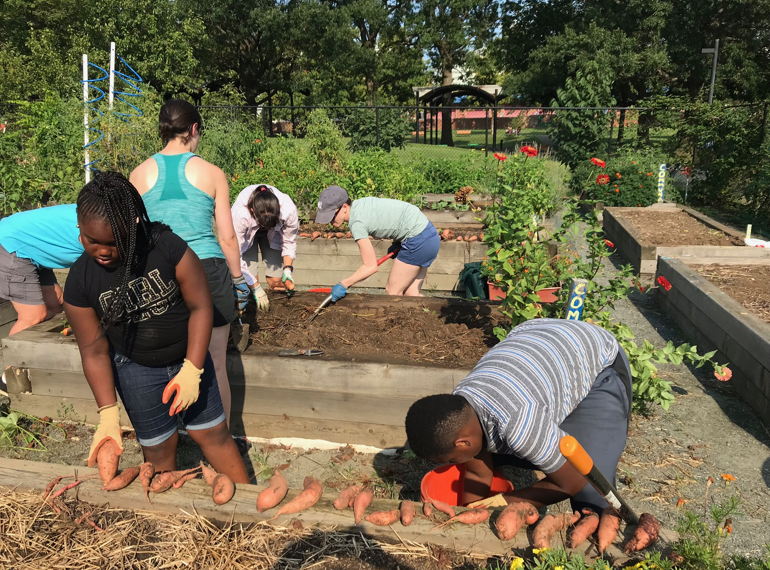 Donations support the purchase of tools, supplies, seeds, soil, and more!
$1,250
raised by 16 people
$5,000 goal
*Donations to SW Gardens are processed through SWNA, who is our fiscal agent.*
The SW Community Garden opened on July 31st, 2013 with the help of Fiskars, The Home Depot, and the DC Department of Parks and Recreation. The garden was the culmination of a yearlong effort by a group of green-thumbed SW residents that found a common interest and worked to bring it to fruition.
The garden initially consisted of 34 raised beds: 2 of which are wheelchair accessible, 4 that are specifically reserved for residents of the 4 surrounding public housing complexes, and 10 that are worked communally. In 2014, the garden won a DC Love Your Block grant and added 3 additional plots in October 2014, bringing the total number of plots to 37.
The communal section is open to anyone to volunteer, and the garden is 100% volunteer-run. The communal section grows food for not only for its volunteers but for the neighborhood as well. The communal section runs from April through October. Work days are on Wednesdays, 6-7pm, and Sundays 4-6pm. Work days are cancelled when there's inclement weather.
In 2018, the garden partnered with Christ United Methodist Church to start a garden on the church's grounds, which is known as the "Sunken Garden." If you'd like to volunteer in this garden, their work days are Thursdays 5:30-7:30pm, and Sundays 11:30am-1:30pm.
Also, in 2018 the garden won the Southwest Business Improvement District's first community-supported micro-grant to turn the garden's annual spring kick-off into SW Earth, Arts, and Music Day. The day consisted of a paint-by-the-number mural created and led by Eric B. Ricks, a workshop on herbs, planting of the communal beds, and a live music performance by the local blues, jazz, soul, and funk band, Kiss & Ride.
In 2019, the garden was featured in the Washington City Paper as part of a piece covering the diversity of community gardens in DC.